Françis Komi AKPA
Chief Executive Officer of PASYD
90 91 42 25 de@pasyd.org
Francis AKPA has acquired a strong experience in social consulting, training of trainers in entrepreneurship, coaching on life and development. He intervenes as a training consultant for many national and international institutions He is Secretary General of Togo NGOs Union. And permanent member of the 2nd General Assembly of the Economic, Social and Cultural Council of African Union.
Trained as a sociologist, he has also earned a Master's Degree from Institut Africain d'Administration et d'Etudes Commerciales = African Institute of Administration and Commercial Studies. He has built a very rich, strong, and credible experience over more than twenty (20) years in the challenges regarding local and community development and civil society. This knowledge he puts in his service to the vision of NGO PASYD. Coordinator of the Voluntary Service Regional Center in the Maritime Region and the Local Relays Agency, he is also in charge of the Guichet d'Enregistrement du Fonds d'Appui aux Initiatives des Jeunes in the Maritime Region. All this fits into the scope of the various partnerships.
Claude Kodjovi FIOSSE
Head of Administration and Finance Department
90 31 79 96 daf@pasyd.org
Specialized in civil society organizations management and accounting, Claude FIOSSE joined the NGO in May 2010. He holds a Master' Degree in Management Control and a graduate degree in marketing and strategy He capitalizes ten (10) years of experience in his field of competence. He internes in training sessions which the NGO organizes.
Romain Komi GLE
Head of Community Development Department
90 22 22 55 dev-com@pasyd.org
With fourteen (14) years of experience, Romain Komi GLE has a vast experience in community development and in project management. He holds a degree in Sociology of development and social change and also a Master's Degree in Human Resources Management from Université de Poitiers =Poitiers University in France in 2008.
He has joined PASYD in 2010 and he was head of the Community Development Department and was in charge of the ARL of PRADEB until April 2018 before he was promoted to the position of Coordinator of the programs and branch offices, position he is currently assuming. Among other things he is in charge of the coordination of the programs and projects as well as that of the prefectural branch offices, the elaboration of projects or technical offers in the context of a call for tender, and elaboration of certain tools for hiring members of the personnel.
Prior to his joining PASYD, he has worked as constant and trainer on the project PURPII (Emergency Program for Poverty Reduction) 2006-2008 and Community Development Program 'CDP implemented by AGAIB-Maritime with financing from the World Bank. He was also in charge of the project "West African Women and Farmers Against Poverty" of GF2D in partnership with WILDAF-AO. He did occupy the position of Regional Coordinator and Regional Officer of the community Development Program within the NGO IDH network from 2004 to 2010.
Wisdom Komi KOUTONE
Head of Department for the Promotion of Entrepreneurship
90 10 62 59 entrepreneuriat@pasyd.org
Having passion for entrepreneurship Wisdom KOUTONE is the head of the Department which is in charge of promoting entrepreneurship and young people's self-employment within the NGO PASYD since 2013. He has been respectively assistant consultant in entrepreneurship in the "Cabinet d'Affaires et d'Etudes Mouvy CAEM Togo) and junior consultant and a trainer for the refugees in how to create micro projects in the Association Togolaise pour le Bien-Être Familial (ATBEF). Here at PASYDWisdom is in charge of planning and coordinating the activities related to training, monitoring and counselling the young entrepreneurs
Elom Kokouvi N´SOUKPOE
Supervisor CRV-M
90 90 85 10 / 22 38 64 47 crv@pasyd.org
Elom N´SOUKPOE graduated in sociology in the core field of development and social change; he holds a Master's Degree in Science of Education, health care and social promotion, and risks prevention from the University of Besançon in France.
With more than ten (10) years of experience in consulting, he entered PASYD as National Volunteer of the United Nations in 2013. Today, Elom occupies the position of supervisor at CRV-M. As such he coordinates all the activities of monitoring and counsrlling and mobililizing national volunteers and host institutions.
Before coming to PASYD, Elom started his career benevolent agent of sensitization and assistant in mounting projects in the NGO Espoir Vie-Togo and has occupied the position of development agent on the projects :de «Réduction de la vulnérabilité des jeunes au IST/VIH-SIDA en milieu rural », «Micro-credit for Women in Rural Togo» à l´ONG (ADRA-Togo), also he was in charge of developpement at Agri-Togo Industry.
Sénam AVEGNON
Monitoring and Evaluation Department
90 29 10 39 suivi-evaluation@pasyd.org
Sénam AVEGNON holds a Master's degree in research and development economy; he has over five years of experience in planning, monitoring and evaluation of development policies, programs and projects. Since January 2018, he is in charge of the monitoring and evaluation department in PASYD. On this account he is in charge of the elaboration of the strategic plans and of the monitoring and evaluation of all the programs and projects of the NGO. He also takes part in the monitoring and evaluation of the National Volunteers (NV).
Before integrating PASYD, Senam was in charge of monitoring Education and Economic Governance sectors within the Ministry of Development Planning and more precisely in Secretariat Technique du DSRP( = Technical Secretariat of Poverty Reduction Strategy Document), institution in charge of coordinating the elaboration, the implementation, and the monitoring and evaluation of the national development strategies.
Valérie Akuvi Dzigbodi TSAHE
In charge of the Economic Interest Groups (EIGs)
90 85 82 45
Holding a degree in sociology of development and with fifteen years of experience, Valérie is a Specialist in support and counselling of Countrywomen's Organizations and financing of Rural Women Income Generating Activities. On this account she is in charge of the Component "Appui aux Groupements d'Intéret Economiques = Support to Economic Interest Groups (EIGs) on PRADEB program in the Maritime Region. She also takes part in supporting and counselling the National Volunteers (NVs).
Before taking up her post at PASYD in 2014,Valerie was respectively the leader of projects in the women's NGO « COLOMBE », Executive Secretary on the Consortium of NGOs and Associations as regards Environment in Togo (COMET), Manageress of Caisse d'Epargne et de Credit =Savings and Credits Bank, then Regional Coordinator of Association pour la Promotion des Groupements Agricolees(APGA) =Agriculture Groups Promotion Association, and finally consultant and trainer on 5èmeProgramme Pluriannuel de Micro Réalisation (5ème PPMR) de l'Union Européenne.= the fifth 5th Micro Realizations Plural annual Program of European Union.
Laurent Lajoie SANNI
Officer in charge of the Platforms of Local Relays Agency in the Maritime Region
90 24 98 82 / 23 21 25 64
Laurent La joie SANNI earned a Doctorate Degree in Sociology of development and social change, a field in which he has accumulated experience for fifteen years. He is in charge of the multifunctional platforms at PASYD since 2015. He organizes the pre-examinations and participative feasibility studies for the implantation of multifunctional platforms in the communities of the Maritime Region. He counsels and supervises the communities for the mobilization of resources for the construction of the shelters for the multifunctional platforms. In addition, Laurent prepares the training in operational management for the members of the management committees set up for the exploitation of the platforms; he plans and coordinates their monitoring and evaluation. He also participates in the monitoring of the National Volunteers.
Prior to taking up his post at PASYD, Laurent was a National Volunteer, Chief of the regional branch office of the Ministry of Grassroots Development, Crafts, Youth and Employment of the Young People. On this account, Laurent was in charge of the examination and coordination of all the activities of the projects and programs of; PSAEG, FAIEJ, PRADEB, FNFI, PRT, FIJ.
Ignace Kodjo KLOUKPO
In charge of the Department of Communication and Citizen Education.
90 35 96 66 communication@pasyd.org
Ignace Kodjo KLOUKPO holds a Doctorate Degree in Political Sociology. He has accumulated ten (10) years of experience in the animation and project management. At PASYD he is in charge of project management, leading of training sessions, monitoring and counseling and mobilization of National Volunteers since 2014.
He joined PASYD as National Volunteer in 2011 and occupied the position of assistant to the officer in charge of Community Development Department. Ignace has been a National Volunteer of the United Nations in the same institution before becoming tracking agent. In addition to his function at PASYD, Ignace is a researcher; he is in charge of Programme Paix et Sécurité du Cercle Panafricain de Recherche sur la Sécurité la Paix et le Développement (CPR-SPD) He is also field Monitor of Système d'alerte précoce de la CEDEAO, ECOWARN/CEDEAO.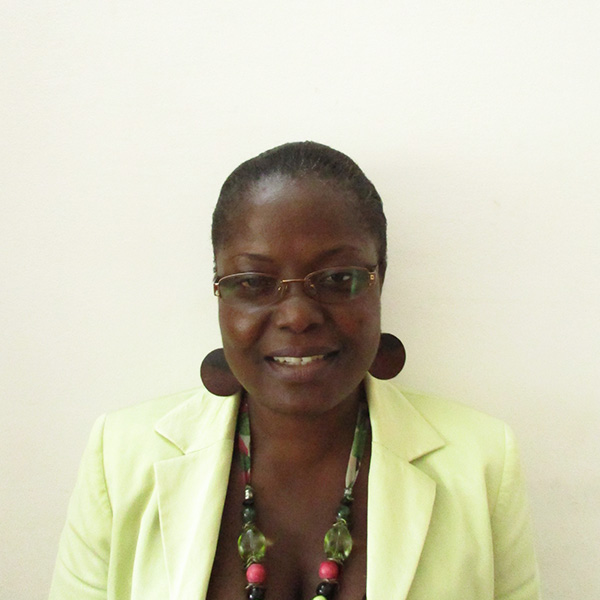 Nathalie Afi Mawunya DEVIA
Supervisor CRV-M
90 94 14 19 / 22 38 64 47
Nathalie Devia is a sociologist. She has accumulated fifteen years of experience in the field of community development. She has integrated the NGO as a National Volunteer of the United Nations in 2012.She was in charge of monitoring and counseling and mobilization of National Volunteers and host institutions, then coordinator of Maritime CRV from 2013to 2015 still as United Nations National Volunteer.
Up till now, Nathalie is also National Volunteers Supervisor. Before coming to PASYD, she has been in charge of voluntary training and education for the NGO MVCP (Mouvement Volontaire de Lutte contre la pauvreté), and equally for the social monitoring on the Projet d'Urgence de Réhabilitation d'Infrastructures et des Services Electriques (PURISE).